Back in April, I had the great pleasure of attending the first day of the spring edition of the Shakori Hills Grassroots Festival of Music and Dance. I was immediately charmed by the location: Shakori is a peaceful little patch of land nestled in Chatham County, NC that has become a thriving community built on environmentalism, sustainability, and local art and culture. In other words, you couldn't ask for a better place to attend a music festival. It's a utopian vision put into practice, a society of open-minded individuals realizing a dream.
I could go on for pages describing the incredible vibe I felt for one day last spring, but with the fall festival less than two weeks away, it's time to start looking forward to what my next Shakori endeavor has to offer.
With the performance schedule recently posted, I've been plotting away and deciding my itinerary for the four days. Starting with the opening ceremonies at 4PM on Thursday (get there much earlier to set up camp, it's a long walk from the parking lot and you don't want to miss this), the festival begins with a bang. The first day starts out with Driftwood, a roots music act from Binghamton, NY and leads in to two of my most anticipated acts: local singer-songwriter Aimee Argote (performing as Des Ark) and the irresistibly funky Sharon Jones & The Dap Kings. Holy Ghost Tent Revival, a Shakori mainstay, play as backing band to Mike Quin later in the evening, and this is one of two opportunities to see the incredible Eilen Jewell (she plays again on Friday if you can't pull yourself away from Sharon Jones).
Friday provides more rootsy goodness: the fantastic Emmit-Nershi Band, northern California's Brett Dennen, NC legends The Old Ceremony, the traditional Celtic sounds of the Grady Girls, and northern California's beloved Brett Dennen. As much as I enjoy his masterfully crafted acoustic pop, I'll be leaving Dennen's set early. The real party will be at the Dance Tent (it usually is), which will be getting rocked by soul-funk-R&B-gospel ensemble Noot D'Noot. I saw these folks back when they toured with Of Montreal; they put on a hell of a show and had the entire crowd dancing uncontrollably, and I can't wait to see how the Shakori crowd reacts. From there, I'd recommend enjoying the reggae stylings of Durham's dub Addis, and don't miss the infectious New Orleans swing of the Dirty Bourbon River Show.
Things get a little more complicated on Saturday, with Afro-jammers Toubab Krewe and indie rockers Hammer No More The Fingers competing for my attention in the headliner slot. Donna the Buffalo (and their devoted cult following) will be out in full force at the Meadow Stage beforehand, and I'll probably be wandering back and forth between self-proclaimed "professors emeritus of bluegrass" Big Fat Gap and the nearby poetry slam. Then again, I'll be doing a lot of wandering. It's one of the best parts of the festival: walking around until you hear something that makes your ears prick up, chasing it down, and discovering something new.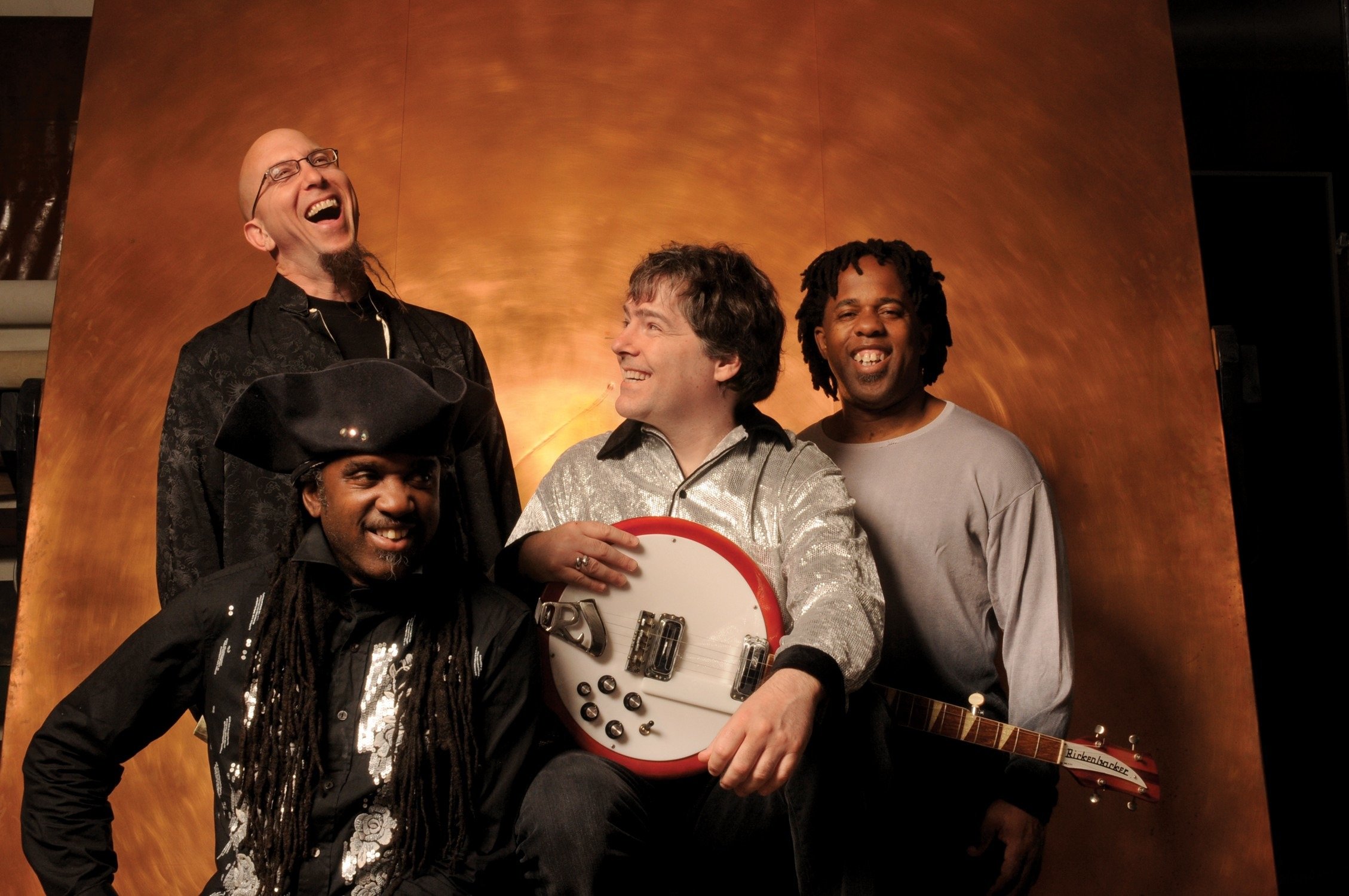 Bela Fleck and the Flecktones take the Meadow Stage
at Shakori Hills on Sunday night.
The last day of the event brings the headliner I'm most excited for: banjo legend (and, speaking as a banjo player myself, a personal inspiration) Bela Fleck and the original Flecktones, including Victor Wooten, one of the greatest bass players to ever walk the face of this earth. Their signature bluegrass jazz with hints of electronica (percussionist Future Man plays an instrument called the Drumitar, a handheld drum machine of his own invention) is utterly indescribable and will surely be one of the weekends highlights. We also have another set from Hammer No More The Fingers and some fun, folksy tunes from The Duhks, as well as the tried-and-true Donna the Buffalo.
And all that? That's just the musical acts. Another wonderful thing about Shakori Hills is everything else that's going on. There's dance lessons ranging from salsa to zydeco to square dancing. Musical workshops throughout the weekend can improve your banjo playing, help with songwriting, or even give you an intro to traditional Celtic music. And of course, the grounds are littered with local vendors purveying their arts and crafts. There's also a puppet parade. With this much to see and do, there's no way to have a bad time.